Our Performance Training Staff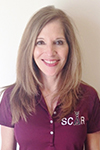 Celeste Bingman, PT
BSc: Physical Therapy and Biology, California State University, Long Beach, CA
Credentials: Physical Therapist
Certification: Certified Pilates Instructor, BASI
Celeste comes to us with a broad background in health and wellness. She graduated with a Bachelor of Science in Physical Therapy from California State University of Long Beach and has specialized in orthopedic rehabilitation since 1986. Celeste also received her certification as a Pilates instructor with Body Arts and Science International and has combined Pilates with physical rehabilitation for the past 10 years. She has also incorporated specific treatment programs for Breast Cancer patients with her physical rehabilitation and Pilates methods.
Her background in rehab and enthusiasm for Pilates enables her to develop a program and progress each patient based on their personal goals. "I love teaching Pilates for it's principles of core integration, lengthening and body awareness".
Celeste was born and raised in central coastal California, participated in a variety of sports and performed as a track athlete for University of Colorado, Boulder. Celeste also enjoys spending time with her family, doing volunteer work with her daughter, and assisting the Track & Field team at Canyon High School. She enjoys Pilates, hiking, backpacking and scuba diving as well.